ABOUT LARKSPUR FLORAL DESIGN
Larkspur Floral Design is an exclusive floral design service for weddings & events.
Independent, passionate, bespoke wedding flower dreamer & event florist​
Welcome to Larkspur Floral Design, an independent florist covering Cambridgeshire, Essex, Suffolk, Norfolk, Hertfordshire, Bedfordshire & beyond.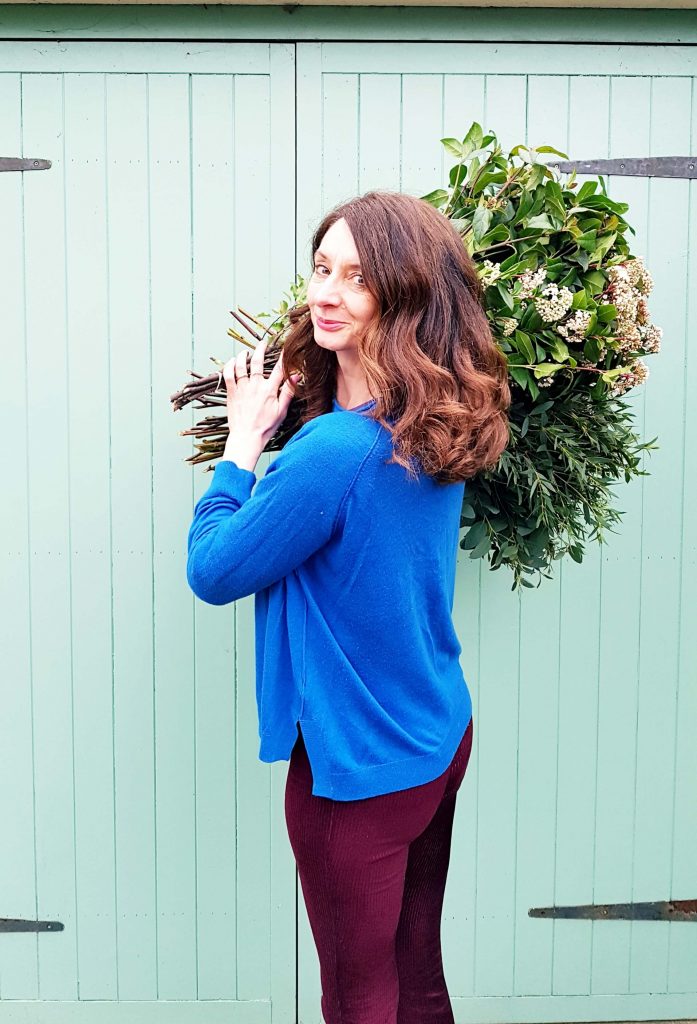 The face behind Larkspur Floral Design
Hello, I'm Bridget, also known as 'Bee'! – I run an independent flower design service based in Cambridge where I have a studio/workshop. Growing up in the Derbyshire Dales I loved flowers, roaming the hills & playing in the midst of stunning nature! I was lucky enough to study for an art & design degree, focusing on textiles, printmaking and painting. I enjoyed working for several years as a curator to promote artists' & craftspeople's work.
But I found my calling when I delved into floristry – & became hooked! I went on to become a City and Guilds qualified florist and have studied at Shuttleworth College & the prestigious Covent Garden Academy of Flowers in London. I'm always learning & love to keep my eye on the most inspirational trends in the flowery world. When I'm not knee deep in blooms I enjoy rifling thru' vintage clothes stores – foraging for that unique gem of an outfit!
I've worked in floristry for over ten years. My training has given me commitment to the highest level of customer service. I create textured, abundant & romantic designs that enhance nature's beauty. I have extensive creative expertise & will offer you a very personal service to help you realise your vision.
I pride myself on creating tailor-made designs with a distinctively natural feel that responds to clients' individual needs, styles and budgets, whether you prefer a classic, rustic or contemporary 'look' to celebrate the spirit of your occasion. Working extensively at a range of venues in the region, I can advise on the suitability of floral designs to complement your setting.
I use the finest seasonal blooms, the best of British grown flowers & foliages & also those sourced internationally from quality growers.
Look forward to meeting you! Bee Xx
Frequently Asked Questions
My studio/workshop is in Histon & Impington, an easy 10 minute drive north of the city centre of Cambridge (also accessible via the Guided Bus). My studio/workshop is not a shop, so visits are by appointment only.
We create naturally distinctive flower designs for events in Cambridgeshire, Essex, Suffolk, Norfolk, Hertfordshire, Bedfordshire & beyond.
A dedicated initial appointment with personal attention, and time to listen carefully to interpret and develop your ideas or brief to create your vision. A follow up appointment in person or by video or call to clarify and confirm your needs – can also be done via email.
Why Larkspur Floral Design?
There is a creative edge and distinctiveness that is unique to the work produced at Larkspur Floral Design. We are concerned to consider every detail of your event which is reflected in the quality of the end product. 
We don't know anything about flowers - can you help?

Don't worry – it's my area of expertise! I can advise on the latest floral trends and show you which flowers are available in a particular season.
We have a budget - will you accommodate that?
As an independent florist I am committed to providing value for money. I will give recommendations to achieve your desired 'look' while remaining within your budget. 
Let's get together and chat flowers over a cup of tea!
My studio/workshop room is in Histon & Impington, an easy 10 minute drive north of the city centre of Cambridge (also accessible via the guided bus). We offer a free no-obligation consultation to discuss your needs, either at our design studio & workshop in Cambridge or by phone/video call. We will then provide you with a detailed quotation and an opportunity to reserve the date for your event.
In high & mid season it is more difficult to offer a consultation date between Thursday and Saturday as that is when most weddings take place.